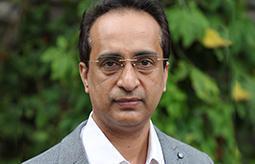 Dr. Nagamalesh U M

Consultant
MBBS, MD, DNB (Cardiology), FACC, FECC, FSCAI
LANGUAGE
Kannada, English, Hindi, Telugu
Overview
A passionate teacher and an astute clinician, Dr Nagamalesh ensures patient care to the dot.
He successfully started the heart transplant program at M.S. Ramaiah Memorial hospital, Bangalore in 2015 after having trained in heart failure, mechanical circulatory support and cardiac transplant from Papworth hospital Cambridge, UK.
The multidisciplinary team at the Centre for Advanced Cardiac Care encompasses one of the largest heart failure and cardiac transplant programs in India and is also a premiere medical centre in Bangalore City.
He has more than 20 years of clinical experience in managing emergencies like acute myocardial infarction and chronic total occlusions alike. His forte includes but not limited to left main, Bifurcation stenting, vein graft disease and Restenosis, radial interventions, rotational atherectomy, FFR and intravascular imaging.
He was critical committee member for the formulation of Indian guidelines for heart transplant and recommendations of the INSHLT task force for thoracic organ transplant during COVID 19 pandemic in India.