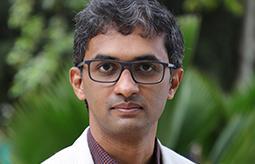 Dr. Santhosh Devadas

Consultant Medical Oncology
MBBS, MD(Internal Medicine), DM (Medical Oncology),ECMO
11 Years Experience
SPECIALITY
Medical Oncology
LANGUAGE
Kannada, English, Tulu, Telugu, Hindi
Overview
Dr Santhosh Kumar Devadas has over 11 years of experience in the field of Medical Oncology and Bone marrow transplantation. His clinical expertise includes blood cancers and stem cell transplantation. His other areas of interest include breast cancer and gynaecological cancer. He has a keen interest in hereditary breast and ovarian cancer syndromes. He heads the Center of Hematology and Bone marrow transplant (CHBMT) at Ramaiah Hospitals and has been instrumental in driving the center towards excellence in outcomes and quality. His research interests include multiple myeloma, qualitative research, implementation research and hereditary cancers.
Awards
Was elected Member of the National Academy Medical Sciences,New Delhi, India,April, 2021.
Awarded the best performer in the EGFRm ECHO (Excellence in Communication of Health Care Outcome) Debate held on 26th September 2020 by Pfizer Inc
Awarded the ESMO Travelling fellowship in September 2018- Advanced Course on Clinical Questions in Prostate Cancer – Singapore, 21-22.9.2018.
Awarded the European Society of Medical Oncology (ESMO) travelling fellowship in September 2017- Immuno-oncology, Preceptorship- Singapore.
Presented a paper named "Long term Follow up data of APML treated with a triple drug regimen-Real world data from a tertiary care Center " At the JC Patel Award Session of the HEMATOCON 2016.
ACORD Fellowship: Was awarded the ACORD fellowship to develop a clinical trial protocol at the 2014 Australia and Asia Pacific Clinical Oncology Research Development Workshop conducted in Sydney, Australia 14-20th September 2014.
2nd Prize: In the quiz conducted at Mumbai Hematology Group meet Mumbai March 2014.
Passed the European Society of Medical Oncology (ESMO) Exam conducted on 28th September 2013
Winner: Dr Reddy's Award: in an exam conducted for Postgraduates in Internal Medicine in the year 2009.