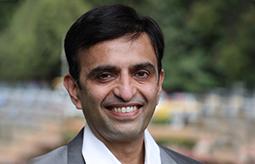 Dr. Deepak. T. S

MBBS, MD, FRCP, EDIC, FCCM, FCCP
SPECIALITY
Critical Care Medicine
LANGUAGE
Kannada, English, Hindi, Tamil, Telugu, Malayalam, Konkani, Tulu
Overview
Trained in critical care Medicine from different countries and well versed with all the procedures related to critical care.
Govt. of Karnataka recognized senior trainer in critical care medicine specialty.
Recognized teacher in Emergency and Critical care Medicine from NMC, RGUHS, ISCCM and ESICM.
Conducted training of senior MD Doctors working in various Govt. Hospital across Karnataka in Critical care medicine.
Started IDCCM Course (Critical Care) @ RMH in 2012 and running it successfully.
Faculty in critical care conferences national and international.
Trained in disaster Management from Indian Defence services.