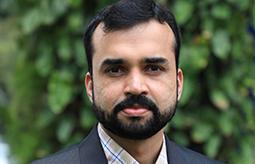 Dr. Akshay Rao

MBBS, MD(General Medicine)
SPECIALITY
General Medicine
LANGUAGE
Kannada, English, Hindi, Konkani, Marathi, Manipuri
Overview
Dr. Akshay joined Ramaiah Medical College & Hospital in 2014.
He specialises in the areas of infectious disease, adult vaccines, rheumatological and hematological disorders and non interventional nephrology. He is also a staunch advocate of the use of technology to improve patients care.
At Ramaiah Hospital, he is a part of the Post COVID care team that runs outpatient and admissions for patients suffering from the long term consequences of COVID infection. He has gained vast experience in this field after having been consulted by close to 1000 patients in the past 9 months.
He handles the in-patient rehabilitation services meant for patients with neurological and respiratory illness requiring rigorous physiotherapy along with speech and swallow therapy.
Department