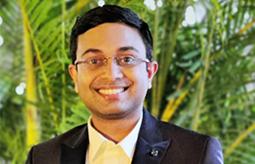 Dr. Karthik Badarayan V

Consultant Rhematologist
MBBS, M.D. (Pediatrics), FIPR (Fellowship in Pediatric Rheumatology)
LANGUAGE
English, Kannada, Hindi, Telugu
Overview
Catering service to patients with arthritis, systemic lupus erythematosus, vasculitis, spondyloarthritis, widespread pain disorders like fibromyalgia, sarcoidosis, psoriatic arthritis and other connective tissue diseases. Exclusive section dedicated towards care of children with rheumatic diseases. Have published research publications in prestigious national and international journals.
Fields of Expertise
Management of Juvenile arthritis, SLE, Vasculitis and other auto immune diseases.
Intra Articular injection.