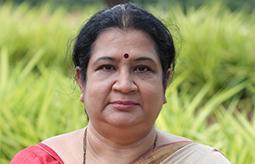 Dr. Bharati V Hiremath

Consultant
MBBS, MS, FIAGES, PGDHHM
SPECIALITY
General Surgery
LANGUAGE
Kannada, English, Hindi, Marati
Overview
After graduating MBBS & MS General Surgery from B J Medical College Pune, Dr. Bharati joined Ramaiah Medical College in 1991 in Cardiothoracic & Vascular Surgery later in 1992 she shifted to Department of General Surgery as Lecturer & from there progressed to became Professor on 2006 & Head of Department from 2015-2018.
She has been working as Consultant Surgeon in Ramaiah Memorial Hospital since it's inception more than 15 years ago. She has more than 30 years of Surgical experience. Her areas of surgical interest are Breast, Thyroid, Laparoscopic Surgery and Colorectal surgery. She has treated a large number of patients with breast problems (lumps,cancer,mastalgia and rare conditions like breast lymhangioma, breast gigantism,etc) and has special expertise in the same. She has special expertise in piles treatment like-Stapler Haemarroidopexy and in hernia repair -laparoscopic as well as open for Complex ventral hernias.
Field of Expertise
Hernia
Thyroid
Colo-proctology
Breast
Gallbladder
Parotidectomy
Diabetic foot
laproscopic & robotic surgery
Varicose veins
Awards
She has been an active member of various committees of the institution like Quality assurance, Safety & Disaster Management, Anti-ragging committee.
She was chairperson for the Hospital Infection Control Committee in Memorial Hospital from 2016-2018.
At present, she is a
Member of Institutional Ethical Committee
Chairperson of Postgraduate students Grievance committee.
She was the member of RGUHS Board of studies & the Lead of the committee responsible for forming the new Syllabus for Postgraduates in Surgery as per NMC regulations.
She holds lifetime memberships of
Association of Surgeons of India
Association of Breast Surgeons of India
Indian Association of gastrointestinal and endoscopic surgeons
Indian Medical Association
Academy of Hospital Administration
She is a member of the National Board of Exams, and conducted numerous exams, and did inspections of institutions for the NBE Accreditation.
She has undergone special training and Certification in
Good clinical practices
Bioethics
Device regulations
She has 22 publications of which 19 are in international journals.
She holds a FIAGES (Fellowship of Indian Association of Gastro endoscopic Surgeon) She has also undergone training in advanced Laparoscopic surgery.
She also holds a PGDHHM (Post graduate Diploma in Hospital & health management