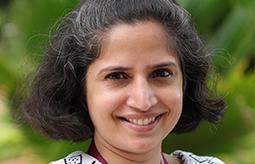 Dr. Rasmi Palassery

Consultant Medical Oncology
MBBS, MD Pediatrics, Fellowship in Pediatric Hematology/Oncology, American Board of Pediatrics Certified
09 Years Experience
SPECIALITY
Medical Oncology
LANGUAGE
Kannada, Malayalam, English, Hindi
Overview
Dr. Rasmi is a children's cancer, blood disorders and bone marrow transplant specialist. She did her M.B.B.S from Govt. Medical College Thrissur, Kerala, followed by a 3 year residency in Pediatrics from Texas Tech University, Amarillo, USA where she was also the Chief Resident. She went on to do a 3 year fellowship in Pediatric Hematology/Oncology from Rainbow Babies and Children's Hospital, Cleveland, USA, where she gained expertise in the treatment of pediatric cancers, benign blood disorders, stem cell transplantation and research trials. Dr Rasmi's clinical interests include malignancies and benign blood disorders in children and young adults. She is trained in performing hematopoietic stem cell transplant for malignant conditions as well as benign blood disorders and immunodeficiencies. Her research interests are epidemiological studies and quality improvement projects focusing on adolescent and young adult cancer patients. She has presented her research at various international scientific meeting and has co-authored scientific articles in peer reviewed journals.
Awards
Financial support award for participation and presentation in ASH's Global Capacity-Building Showcase at the 61st Annual Meeting and Exposition, 2019.
UH Rainbow Babies and Children's Hospital Fellowship Research Award Program (FRAP) recipient in 2014 for an amount of $8,000 for research in the "Development of Nrf2 Agonists as Enhancers of Hematopoietic Stem Cell Engraftment: Analysis in a Novel 3D-osteoblast Niche Model System".
Travel Grant from 2010 American Society of Nephrology (ASN) Program for Medical Students and Residents to participate in the ASN Renal Week 2010.