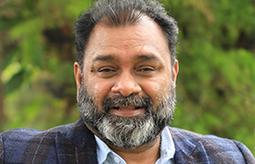 Dr. Ananth Bhandary S.

HOD & Consultant
MBBS, MS
18 Years Experience
LANGUAGE
Kannada, English, Tamil, Tulu, Hindi
Overview
Dr. Ananth Bhandary is Consultant and Head of the department of Ophthalmology at Ramaiah Memorial Hospital. He has vast experience in management of various eye related diseases. He has completed short term phacoemulsification training at Narayana Nethralaya and a short term course in Lasers and medical retina at Arvind eye hospital Coimbatore. He has mentored and taught many post graduate students various fine nuances of intraocular surgery.
He has multiple publications in National and International journals and various podium presentations in State and National conferences. He a executive member in many state and national ophthalmic committees.
Field of Expertise
Cataract
Medical Retina
External Eye Disease
Awards
EMINENT TEACHER award at IFFB, Goa 2019
Professional Membership
Professor and Head, Department of ophthalmology. Ramaiah medical college. Bangalore.
Past member Board of studies Padmavathi medical college.Tirupathi.
Past treasurer Karnataka ophthalmic society.
Karnataka state chapter founder Executive committee e member of ACOIN. 2018
Karnataka state chapter founder executive commiittee member of MSICS 2018
Past associate editor of JMEDS journal.
EC member of Bangalore BUNTS sanga doctors wing.
Member SSTC AIOC.
Member evaluator and judge for conferences AIOC for last 3 years.
LIC inspector Rajiv Gandhi University of health sciences 2019.
Past chairman and member ethics committee Medysis bangalore
Past member ethics committee Narayana Nethralaya. Bangalore
Keynote address in AIOC 2019,2020 2021.
MEMBER student harassment committee for DNB course.
AUTHOR -visual rehabilitation chapter for IGNOU course
VICE PRESIDENT state chapter –MSICS 2021
Judge, Co chair,chairman at AIOC since last 3 years in poster podium,free paper in Cataract and Medical Retina sessions.