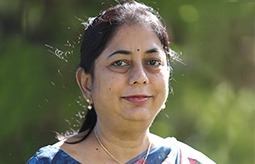 Dr. Anitha D S

Clinical Psychologist
M.Phl, P.hD
SPECIALITY
Pain and Palliative Care
LANGUAGE
English, Kannada, Hindi, Telugu
Overview
Dr. Anitha D S heads the Department of Pain and Palliative Care and has more than 10 years of experience in palliative care and counselling for family members. She has 25 years of teaching experience in Psychology and taught Post graduate students at Bangalore University. She has supervised several dissertations and project work for PG students related to clinical Psyhology.
She has coached UPSC aspirants. Many soft skill training programes for managers in several companies are conducted under her guidance.
She is also a facilitator for distance education learning in mental health. She has worked as co-investigator in various projects of both national and international level and has several publications to her credit.
Her special area of interest is cancer care for patients with terminal illness and pediatric diabectic counselling.
She is a psychooncologist, assessor and therapist for patients with cognitivie disorder post trauma.