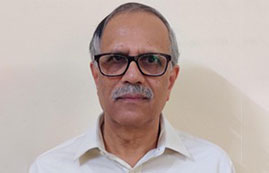 Dr. Satish Chandra Girimaji

Visiting Consultant
MD (Psychiatry)
35 Years Experience
LANGUAGE
Kannada, English, Hindi
Overview
Dr. Satish Chandra Girimaji is a Child & Adolescent Psychiatrist with over 35 years of experience. He was a faculty in the Dept of Psychiatry and later in the Dept of Child & Adolescent Psychiatry (CAP) at NIMHANS, Bangalore and retired as the Senior Professor of CAP. He headed the Dept of CAP for 3 years, and also was the Dean (Behavioral Sciences) for about 2 years. His areas of interest are child & adolescent psychiatry and neurodevelopmental disorders.
Field of Expertise
Paediatric Psychiatry (Child & Adolescent Psychiatry)
Professional Memberships:
Life Fellow, Indian Psychiatric Society
Life Fellow, Indian Association of Child and Adolescent Mental Health
Research and Publications:
Google scholar indexed: 120 publications
Pubmed indexed: 85 publications
Some recent publications
Sravanti L, Kommu J. V, Girimaji S. C, Seshadri S. Lived experiences of children and adolescents with obsessive – compulsive disorder: interpretative phenomenological analysis. Child and Adolescent Psychiatry and Mental Health. 2022 Dec;16(1):1-3.
Moyon R. S, Thomas B, Girimaji S. C. Subjective experiences of dissociative and conversion disorders among adolescents in India. International Journal of Social Psychiatry. 2022 Nov;68(7):1507-15.
Girimaji S. C, Basheer S, Biswas A, Gangadharan S. K. Intellectual Disability—Concepts, Aetiology, and Genetics. Oxford Textbook of the Psychiatry of Intellectual Disability. 2020 Jan 23:23.
Kaushik P, Mahajan N, Girimaji S. C, Kumar A. Whole Exome Sequencing Identifies a Novel Homozygous Duplication Mutation in the VPS13B Gene in an Indian Family with Cohen Syndrome. Journal of Molecular Neuroscience. 2020 Mar 13:1-4.
Kandasamy P, Girimaji S. C, Seshadri S. P, Srinath S, Kommu J. V. Favourable short-term course and outcome of pediatric anxiety spectrum disorders: A prospective study from India. Child and adolescent psychiatry and mental health. 2019 Dec;13(1):11.
Awards:
Member, WHO Working group on revision of intellectual disability chapter for ICD-11