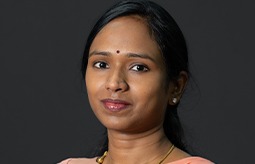 Dr. Lithika Lavanya M.

MBBS MD DNB Radiation Oncology, RGUHS certified fellowship in Advance Techniques in Radiation Oncology, IAPC certified course in Essentials of Palliative Care
7 Years Experience
SPECIALITY
Radiation Oncology
LANGUAGE
English, Kannada, Hindi, Tamil, Telugu
Overview
Dr Lithika Lavanya M, Assistant Professor in department of Radiation Oncology with an interest in breast and gynaecological malignancies. Active member of department of research and patency (DRP) and reviewer in an Indian journal, presented papers in multiple national conference and two papers got selected for international presentation.
Part of the organizing committee in international and national cadaveric brachytherapy conference and MC in two conferences. Experienced and interested in gynaecological malignancies brachytherapy and stereotactic therapy. Conducted multiple social-awareness and cancer screening programs at Ramaiah. Trained in bharatanatyam, member of the cultural committee and performed in certain functions of the institute. Participated and judged multiple competitions in the institute.
Member of:
Research and Publications:
Four articles published in National Journal (As mentioned below)
Two articles in International Journal (As mentioned below)
Chapter of a text book
llustrator in a text book and a kannada poetry book
Four Research projects awaiting publication
Correlation Of Oral Mucositis With Timing Of Radiation In Head And Neck Cancer- A Prospective Randomised Study OnChronoradiotherapy- Journal Of Radiation And Cancer Research
A Rare Presentation Of Interstitial Lung Disease In A Follow-Up Patient With Breast Carcinoma- Journal Of Cancer Research And Practice
Concised Nine Year Data of Cancer Patient's BMI: An Institutional Study- Journal of Radiation and Cancer Research.
Buccal Mucosal Metastasis of RCC: A Case Report and Review of Literature-International Journal of Clinical Research
Distress in Cancer Patients and their Compliance to Treatment-Indian Journal of Cancer.
Role of Prophylactic Swallowing Exercises in Reducing Radiation Induced Dysphagia in Head and Neck Cancer Patients- Journal of Cancer Research and Therapeutics.
Affiliation:
Affiliated only with Ramaiah