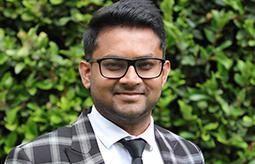 Dr. Neeraj

Consultant
MBBS
SPECIALITY
Radio Diagnosis
HOSPITAL
Ramaiah Memorial Hospital, Bangalore
Overview
Dr. Neeraj is a resident of Bangalore, having finished his schooling in Bangalore. In 2010, he left Bangalore to pursue his MBBS in Mahadevappa Rampure Medical College in Kalburgi for a period of five years following which he took a transfer to Bowring and Lady Curzon Hospital, Bangalore to complete his internship. He joined Ramaiah Medical College as a Post Graduate in the department of the Radiodiagnosis in 2017 and completed his post-graduation in 2020. Subsequently, he joined the department of radio-diagnosis in Ramaiah hospitals as a senior resident in November 2020.
Awards/ Accolades / Membership
Presented posters and papers in state and national conferences during the post graduation.
Won the best paper award in National Conference, Chandigarh 2019.