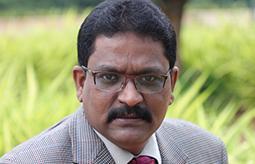 Dr. Chandrashekar. A. R

Consultant
MBBS, MS, FVES(RGUHS), FVES(IRELAND), FIES(GERMANY)
16 Years Experience
SPECIALITY
Vascular & Endovascular Surgery
LANGUAGE
Kannada, English, Hindi, Tamil, Telugu
Overview
Dr. Chandrashekar A.R is a consultant vascular and endovascular surgeon practicing in Ramaiah Memorial Hospital for the past 14 years, and having 16 years of experience in vascular and endovascular procedures. He pursued all his medical degrees from Rajiv Gandhi University of Health Sciences, Bangalore.
He had done his International Fellowship in Endovascular Surgery from St: James Hospital, Dublin, Ireland and Leipsic Heart Center University, Germany.
He has both national and international publications on various vascular procedures and has performed highest number of peripheral atherectomy procedures for SFA occlusion in India. For the past 16 years of his experience, he has done more than 2000 cases of AVF/Graft for Chronic Kidney Disease patients for dialysis.
He also hosted workshops and CMEs for postgraduate surgery students on vascular anastomosis.
Dr. Chandrashekar A.R is an experienced, skilled and awarded surgeon in his field of specialization with a keen interest in patient care and well being.
Special Interest
Open Varicose Surgery for Chronic venous ulcer patients
Laser Varicose Vein Surgery for both cosmetic as well as therapeutic cases.
Keyhole/endovascular procedures for nonhealing diabetic foot ulcers
AV Fistula Creation for chronic kidney disease patients
Minimum keyhole (endovascular) for peripheral arterial disease
Medical management for Neuropathy and Diabetic Foot Ulcer management