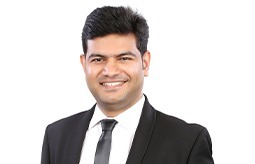 Dr. Shashidhar Achar

Consultant Interventional Radiology
MBBS, MD, DNB, FVIR, EBIR
6 Years Experience
SPECIALITY
Radio Diagnosis
LANGUAGE
Kannada, English, Hindi
Overview
Dr Shashidhar Achar is a consultant in Interventional Radiology with over 6 years of experience. He did his MBBS from K.S.Hegde Medical Academy, Mangalore through KCET entrance. Then he pursued his MD in Radiology in AMC, Assam through prestigious AIPGMEE exam with high merit. Later he did his senior residency in Radiodiagnosis and Interventional Radiology at SGPGI, Lucknow. He developed keen interest in IR during his senior residency days and subsequently went on to pursue two year interventional radiology fellowship from Apollo Hospital, Chennai. He was also awarded the EBIR (European Board of Interventional Radiology) from CIRSE (Cardiovascular and Interventional Radiology Society of Europe, Vienna).
He was working as Associate Consultant at Manipal Hospital, old airport road, Bangalore for past few years. As a part of the IR team Dr. Shashidhar has been managing a wide spectrum of Gastrointestinal, Hepatobiliary, Nephrology, Urology, post Transplant, Oncology, Dialysis access and venous interventions, Pulmonary, Gynecological and Vascular interventions.
He is academically oriented and has published in many national and international journals and presented papers in state and national conferences. He is also keenly interested in contributing to the growth of field of Interventional Rdiology and help develop interest in IR among the Radiology residents. Dr Shashidhar is known for patient centric approach, good communication skills and thrives in team environment.
Education:
Medical Degree: MBBS, MD, DNB, FVIR, EBIR
Medical School: MBBS – K. S. Hegde Medical Academy, Mangalore.
MD – AMC, Assam.
Senior Residency – SGPGI, Lucknow.
DNB – NBE, New Delhi.
FVIR – Apollo Hospital, Chennai.
EBIR – CIRSE, Vienna.
Board Certification: [If applicable] Registered with Karnataka Medical Council
Fellowships: FVIR, EBIR (Vienna)
Field of Expertise:
Gastrointestinal and Hepatobiliary interventions- Percutaneous biliary drainages, Percutaneous cholecystostomy, Liver biopsies, Liver abscess drainage, Transjugular liver Biopsies(TJLB), HVPG, TIPSS, BRTO, PARTO, RF/Microwave Ablations of HCC, TACE, TARE, Portal vein embolisation. Pancreatic pseudocyst / abscess drains, post operative collections drainage.
Nephrology and Urological interventions- Renal biopsies and TRUS guided prostate biopsies, PCN and DJ stenting, Renal artery stenting, renal tumour ablation, Pre operative embolisation of RCC, Embolisation for AML, Prostate artery embolisation.
Transplant interventions- post transplant Biopsies, Post-transplant collection drains, post renal transplant PCN and DJ scenting, post liver transplant PTBD, post transplant Vascular stenting.
Dialysis access and Venous interventions- Dialysis access, Permcath insertions, Fistuloplasty and thrombolysis, Central venoplasty. Varicose Vein management – Laser ablation and VENASEAL.
DVT management including Catheter directed thrombolysis and IVC filter placement, Sclerotherapy for vascular malformation.
Interventional Oncology- PICC lines, HICKMANs line, Ultrasound guided and CT-guided biopsies, Breast biopsies and Interventions, Collections drainage, Microwave and Radiofrequency ablations, Trans arterial Chemo embolisation (TACE) and Trans Arterial Radioembolisation (TARE) for HCC.
Pulmonary interventions- USG and CT guided Lung Biopsies and Pleural Drainages, Bronchial artery embolisation for hemoptysis, Pulmonary AVM embolisation.
Gynecological interventions- Uterine fibroid embolisation, Uterine artery embolisation for PPH, AVM embolisation.
Arterial interventions- Peripheral angioplasty and stenting, AVM embolisation Thyroid RF Ablation for benign nodules. FNACs, Biopsies and Drainages.
Professional Memberships:
Indian Radiology and Imaging Association – IRIA
Indian Society of Vascular Interventional Radiology – ISVIR
Cardiovascular and Interventional radiology Society of Europe – CIRSE, Vienna, Austria
Asia Pacific Society of Cardiovascular and Interventional radiology – APSCVIR, Singapore
Society of Interventional Radiology – SIR, USA
Karnataka Medical Council
Research and Publications:
Dutta HK, Achar SV Experience with REX-shunt in children with EHPVO. JASA 2014;21(1)
Achar SV, Dutta HK. Sincipital Encephalocele: A studyof associated brain malformations. Journal of clinical imaging Science 2016; 6(20)
Deb K. Boruah, Dhaval D. Dhingani, Shashidhar Achar, Antony Augustine & Kangkana Mahanta, safe zone for blinded sternal interventions based on CT evaluation of midline congenital sternal foramina. Skeletal Radiol 45, 1619–1628 (2016).
Boruah DK, Dhingani DD, Achar S, Prakash A, Augustine A, Sanyal S, et al. Magnetic Resonance Imaging Analysis of Caudal Regression Syndrome and Concomitant Anomalies in Pediatric Patients. J Clin Imaging Sci 2016;6:36
Achar S, Dutta HK, Gogoi RK. Extrahepatic portal vein obstruction in children: Role of preoperative imaging. J Indian Assoc Pediatr Surg 2017;22:144-9.
Lal H, Yadav P, Achar S, Singh UP Renal cell carcinoma with isolated metastasis to sigmoid mesentery: a rare resectable combination. BMJ Case Rep. 2017 Sep 15;2017
Neeraj Jain, Shashidhar Achar, Naveen K. Garg, Sunil Kumar, Coronary-pulmonary fistula with common sac: An uncommon variant, 2018;28:239-41.
Achar, Shashidhar. et al. 'Prostate Artery Embolisation ', Manipal Clinical Journal, vol. 2 no. 2, April 2022 pp. 33–37.
Achar, Shashidhar, et al. "Transhepatic Tunneled Dialysis Catheter: A Unique and Rare Vascular Access ." Manipal Clinical Journal, vol. 2, no. 3, Sept. 2022, pp. 18–21.
Awards and Presentations:
Speaker at CIRCON (Clinical Interventional Radiology CONference, ISVIR Karnataka state Chapter) 2023.
Presented paper on pre operative imaging of EHPVO in IRIA national conference in 2015.
Presented a paper on colour doppler and MR portovenogram correlation study in EHPVO in IRIA, Assam state conference – 2014
Presented a poster on renal replacement lipomatosis in IRIA, Assma state conference – 2013
Presenter in multiple Radiology and Intervention Radiology meets and CMEs.
Hospital Affiliations:
M S Ramaiah Medical College Teaching Hospital
M S Ramaiah Memorial Hospital