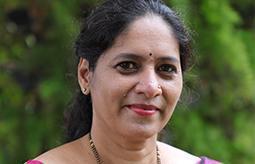 Dr. Manjula. N. V.

Consultant
MBBS, MS
18 Years Experience
SPECIALITY
Obstetrics & Gynecology
LANGUAGE
Kannada, English, Hindi, Tamil, Telugu
Overview
Dr. Manjula N.V. is Assoc. Professor working in the department of OBG. She did her MBBS in Ambedkar Medical College and MD(OBG) at J.S.S. Medical College, Mysore. She joined M.S. Ramaiah Medical College & Hospitals in 2006. She worked in Devaraj Urs Medical College from 2004-2005 She has more than 18 yrs. of experience in managing Obstetrics & Gynecology cases. She is very passionate in teaching both undergraduates & Post graduates. Her interested in Urogynaeology & Laparoscopys. She has conducted and participated in various CME programmes. She has attended both National & International conferences and has updated her knowledge and skill.
Field of Expertise
Urogynaecology and Endoscopic surgery
Professional Membership
Member of FOGSI & BSOG, EC member and Core committee member in AICOG
Conducted PPH drills