Critical Care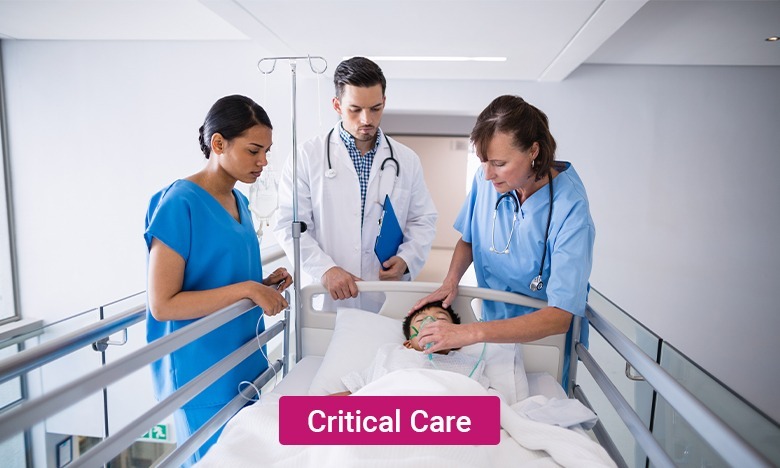 By MSRMH Admin / August 16, 2023
The Medical ICU, also known as the Intensive Care Unit (ICU) or Critical Care Unit (CCU), is a highly specialized department designed to provide round-the-clock care to patients with severe and life-threatening illnesses. It caters to those requiring constant monitoring, advanced medical interventions, and specialized treatment to stabilize and improve their health. The primary objective of the MICU is to manage critical illnesses and post-operative complications effectively, thereby reducing mortality rates and improving patient outcomes.
The Critical care Unit at Ramaiah Hospital is an 83 bedded state -of-the-art multi-disciplinary center where Medical, Neurology, Oncology, Nephrology, Gastroenterology, Surgical, Obstetrics and Trauma Patients are managed.
The Critical care encompasses Medical Intensive Care unit, Surgical Intensive Care Unit, Isolation, and High Dependency unit with ventilator support that delivers care to patients with complex and potentially life-threatening conditions.
Care Compassionate
At the core of Ramaiah Hospital's MICU lies an unwavering dedication to compassionate and patient-centric care. The medical team, led by the experienced and empathetic physicians, nurses and support staff, embraces a humanistic approach that treats patients not merely as medical cases but as individuals with unique needs and emotions. Each patient receives personalized attention, and their physical, emotional, and psychological well-being is considered in every aspect of their care.
The MICU operates on a collaborative multidisciplinary care model, ensuring that every aspect of a patient's condition is addressed with precision and expertise. This synergy between various specialties allows for a comprehensive treatment plan, leading to improved clinical outcomes and a higher quality of life for patients.
Centre of Excellence
Ramaiah Memorial Hospital's MICU is equipped with state-of-the-art medical technology that sets it apart as a center of excellence. From advanced cardiac monitors to mechanical ventilators, continuous renal replacement therapy machines, and cutting-edge imaging equipment, the MICU embraces the latest innovations in critical care medicine. This integration of advanced technology and compassionate care enhances patient safety and contributes to the exceptional outcomes achieved by the MICU.
A distinguishing feature of Ramaiah Memorial Hospital's MICU is its commitment to continuous learning and research. This dedication to professional growth allows the MICU to adopt evidence-based practices, innovative treatments, and novel therapies, ensuring that patients receive the best possible care aligned with the latest medical advancements.
Intensivists navigate issues such as end-of-life care, organ donation and resource allocation. Ethical decision-making is done based on profound understanding of the principles of medical ethics, empathy and respect for patient autonomy and dignity. This aspect of work ethics ensures that decisions made are in the best interest of the patient while upholding their values and wishes.
Ramaiah Memorial Hospital's Medical Intensive Care Unit stands tall as an exemplary haven of critical care, where compassionate care, advanced technology, and an unwavering commitment to patient well-being converge. The dedication of the medical team, their expertise in critical care medicine, and their focus on continuous learning and research are the pillars that uphold the MICU's reputation of excellence. As a beacon of hope, the MICU provides a safe harbor for patients during their most vulnerable times, offering them the best possible chance for recovery and a better quality of life. Ramaiah Memorial Hospital's MICU serves as an inspiration for the medical community and a testament to the transformative power of compassionate and patient-centric critical care.
Dr. K. Rooparani
MSRCARE