Mental Health: A Universal Human Right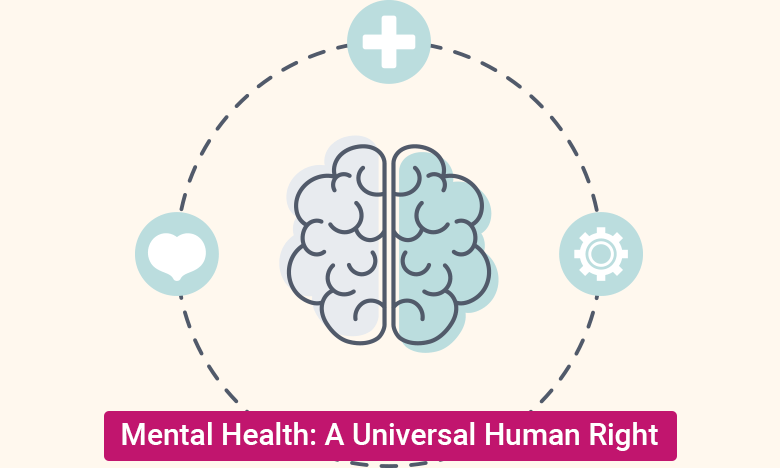 October 10, 2023 / Psychiatry
The 10th of October is observed as World Mental Health Day. Globally, all the stakeholders work towards creating awareness about mental health and promote activities to reduce mental health issues. The theme for year this 2023 is "Mental Health is a Universal Human Right" which signifies that Mental health is a Basic human right of every individual.
Globally growing literature and advances in mental health, it is still not uncommon to observe that persons with mental illness are subject to coercive and inhuman practices like chaining, restraints and chronic institutionalization. Some of these even violate basic human rights. It is common for persons with mental illness to experience stigma, exclusion and discrimination in the society.
Today, we call upon everyone to look around and to treat every person suffering with mental illness just as another human, a fellow human.
What are the rights of persons with mental illness?
Right to live with dignity.
Right to confidentiality (except in emergencies).
Right to be treated in the community.
Right to avail affordable, accessible and quality mental health services
Right to treatment and decision-making process
And many more
Everyone has the right to the highest attainable mental health standards. One in eight people globally are living with mental health conditions, which can impact their physical health and overall well-being. Mental well-being is an essential component of overall health and well-being. The need for community awareness and acceptance of help is of utmost importance and will ensure adequate and appropriate addressal of mental health issues. Mental illness is not a choice, but how we handle it is. Therefore,
Educate – on mental health symptoms and disorders.
Identify – the symptoms and problems.
Action – meet a mental health professional.
What are the causes of mental health issues?
There are no specific causes or one single cause that can explain mental health issues. It is usually multifactorial and interactions of the bio-psycho-social factors.
Biological – genetics
Psychological – Individual resilience, psychological sophistication, personality factors
Social – Interpersonal relations, work, education, responsibilities and other stressors.
Can mental health problems be prevented?
One cannot entirely control or prevent mental health issues as many are natural emotions and reactions to specific events or situations. However,
Physical exercise
Nutritious diet
Social support
Regular sleep patterns
Substance free lifestyle
can help one to maintain good physical and mental health.
What will a Mental Health Professional usually do?
The mental health professional will evaluate in detail for your symptoms and address them with medications, lifestyle modifications, psychotherapy and other modalities of intervention.
At Ramaiah Memorial Hospital, the Mental health team comprises Psychiatrists and Clinical Psychologists. The team is dedicated and focussed to help those with mental health concerns. They are sensitive, compassionate, empathetic and active listeners. They address all concerns with active involvement of the individual and the family when necessary. The team specialises in general psychiatry, addiction medicine, child and adolescent psychiatry, geriatric psychiatry, sexual health and well-being, psycho-oncology and psychotherapy.
Do not hesitate to address your mental health issues. It is as important as your physical health. We are there to hold your hand and help you get better.
"Mental health…is not a destination, but a process. It's about how you drive, not where you're going." — Noam Shpancer, PhD
Dr. N. Vyjayanthi Venkataramu
Assistant Professor, Department of Psychiatry