PERIPHERAL ARTERIAL DISEASE (PAD)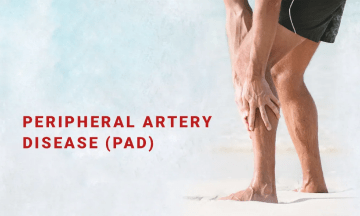 By MSRMH Admin / November 28, 2022
If your legs pain while walking, this may be the first indicator of a leg attack, known in medical terminology as Peripheral Arterial Disease (PAD).
Peripheral Arterial Disease (PAD) is a common condition in which arteries in the body can become narrow and blocked due to various reasons. It could be age-related, high cholesterol, diabetes or smoking.
Just like a blockage in the heart arteries can cause a heart attack, a blockage in the leg arteries can cause a leg attack. Initially, patients attribute the pain to age, weak muscles or arthritis.  However, if left undiagnosed and untreated, PAD often ends with ulcers or gangrene and eventual amputation of the leg.
A 69-year male complained of pain in the left lower limb for nearly four months. He could not walk without pain even for 100 metres, climb stairs or exercise. He was a patient with hypertension and diabetes and had undergone therapy for bladder cancer three years before this problem arose.
Medical treatment for 2-3 months did not yield results and the patient was brought to Ramaiah Memorial Hospital. Our Vascular Surgery team intervened and the patient underwent Left side arterial endovascular procedure, removing plaque and opening occlusion with balloon and placing a stent in the artery. It was a Hybrid procedure performed for which the patient came in a wheelchair as an outpatient and walked back home after the procedure!
Regular examination with an Ankle-Brachial Pressure Index (ABI) test will detect PAD in its early stages and can be curable. Colour Doppler or a CT Angiography can also detect PAD.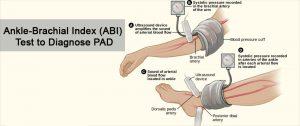 If left untreated, this disease which naturally progresses can lead to the onset of black patches in toes or foot (gangrene).
In earlier times, patients with gangrene were advised to ampute the leg, either below or sometimes above the knee. But with newer advances in vascular surgery, procedures are now being performed to prevent amputation. After all, it's not your legs, it's your life!
Treatment:
Not all patients require major surgery if diagnosed in time. In addition to changing lifestyle after a diagnosis and controlling risk factors like diabetes and hypertension, certain medicines prove useful in the initial stages of PAD.
Exercise strengthens the leg muscles which are out of shape and weak. It is useful for improving claudication distance and helps you lead a healthy life. However, this may not be suitable for patients who have ulcer or gangrene.
Minimally invasive techniques through needle punctures and utilising endovascular balloons or stents have revolutionised the treatment of PAD patients to deliver better results in reduced recovery time and are less painful. They are now regularly used for the treatment of leg arterial blockages.
A combination of open + endovascular surgery is performed which is customised as per the patient's medical condition.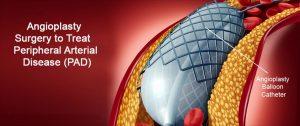 Endovascular surgery is a non-surgical treatment of disease from within the blood vessel. Some of the common endovascular procedures include angiography, peripheral angioplasty, embolization of bleeding vessels or tumours, catheter thrombolysis for DVT and covered stents for aneurysms.
Endovascular options pose lower risks, a shorter stay in the hospital, shorter recovery time and less bleeding.
Often, long segment blockages or multilevel blockages are better dealt with by surgical bypass. Surgical bypass can be performed by using the patient's own vein or a synthetic graft and can be performed from the abdomen to the foot depending on the level and extent of arterial blockage.
These procedures do not cure PAD, but they can improve the blood circulation to the legs and thus prevent amputation.
We, at Ramaiah Memorial Hospital, have been providing effective treatment to a patient suffering from PAD, based on the health condition of the patient, age factor and the level of blockages.
Prof & Head | Dept of Vascular & Endovascular Surgery