We are an empowered team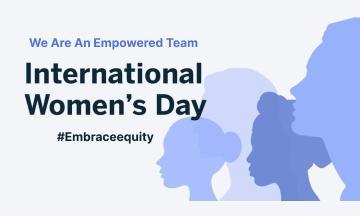 By MSRMH Admin / March 9, 2023
March 8th is International Women's Day. "Embrace Equity" is the theme of Women's Day this year. Equal opportunities are just not enough.  This year, Women's Day goes beyond that. We must work towards a gender-equal world.
This day, every year, draws attention to gender equality, reproductive rights and violence and abuse against women. It also celebrates the social, economic, cultural, and political achievements and contributions of women.
We, at Ramaiah Memorial Hospital celebrate womanhood in a practical manner.  We have many women employees who have been associated with the hospital for decades having studied at the Ramaiah Institutions and continued to grow in their careers in the Ramaiah Hospitals. Today, they are heading various departments in the hospitals and with a lot of confidence and elan. Our doctors, nurses, administrators, front office staff, coordinators, and maintenance staff have women who are a dedicated team and play a vital role in the running of the organization.
The security that the Institution has provided them and their families is unmatched.  A peaceful home brings about growth in the profession and many women here have grown because of the sense of ownership and belonging towards the organization.
The hospital has more women employees enjoying equal pay and growth opportunities.  The hospital is family-friendly, and looks after their needs be it leave for sickness in the family, marriage leave or maternity leave and such.
Equal opportunities are provided to train and reorient themselves in their field of expertise.  The Hospital does not hesitate to send their women employees to hone their skills and heads various departments. Gender equity at its best!  It is part of our DNA.
Dr. Reeja Raju
Dr. Pavithra L. S.