World Lung Cancer Day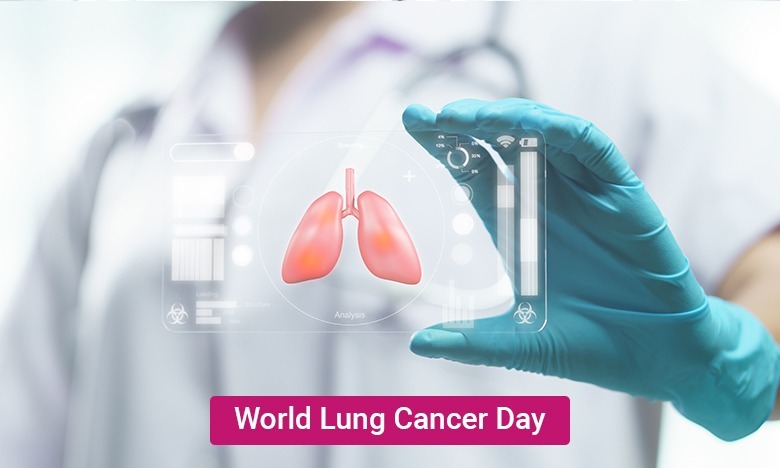 By MSRMH Admin / August 22, 2023
Lung cancer is the leading cause of global cancer incidence and mortality, accounting for an estimated 2 million diagnoses and 1.8 million deaths. Neoplasms of the lungs are the second most common cancer diagnosis in men and women (after prostate and breast cancer, respectively). With increasing access to tobacco and industrialization in developing nations, lung cancer incidence is rising globally. The average age of diagnosis is 70 years old. Lung cancer is the most often diagnosed cancer and leading cause of cancer-related deaths worldwide. In India, lung cancer accounts for 5.9% of all cancers and 8.1% of all cancer-related deaths. The prevalence of smoking in patients with lung cancer is nearly 80%.
Diagnosis
Most lung cancer patients are diagnosed at an advanced stage. The reason is that most lung cancer patients have no obvious specific symptoms at the beginning of the disease, and many patients are at an advanced stage when they are diagnosed. Statistics show that the prognosis of lung cancer is closely associated with the clinical stage, which indicates that early diagnosis can directly improve the prognosis of the patient. Therefore, the selection of effective diagnosis and screening methods is quite crucial to improve the early diagnosis rate and prognosis of lung cancer.
Nowadays, pathological diagnosis has been regarded as the gold standard for diagnosing cancer. There are several methods for obtaining histological specimens, including bronchoscopy, ultrasound, or CT-guided percutaneous lung biopsy. In general, lesions in the central one-third of the thorax are accessed bronchoscopically, whereas lesions in the peripheral one-third are accessed transthoracically. Among them, bronchoscopy has been developed rapidly and is widely recognized in recent years. It not only expands the field of vision for diagnosis but also improves the efficiency of diagnosis. Advanced bronchoscopic techniques such as endobronchial ultrasound (EBUS) are offered by pulmonologists. Establishing histopathological evidence of nodal involvement is especially relevant in countries such as India, where granulomatous diseases, for example, tuberculosis, are endemic. Endosonographic procedures (EBUS with or without endoscopic ultrasound) and mediastinoscopy are the techniques available for invasive mediastinal staging. Mediastinoscopy is generally considered the accepted standard for invasive mediastinal staging.
Treatment
The spectrum of lung cancer as a disease has evolved over the decades from primarily affecting elderly tobacco-smoking men to affecting an increasing number of younger individuals, light or nonsmokers, and females. Most patients present with advanced/metastatic disease and are treated by nonsurgical modalities. Advances in molecular testing and radiation delivery techniques and the availability of generic drugs targeting common oncogenic drivers have made treatment more effective and better tolerated while being affordable for select subgroups of patients with lung cancer.
In low- and middle-income countries like India, lung cancer is often diagnosed at a late stage due to poor knowledge and awareness of its signs and symptoms. Increasing lung cancer awareness is likely to reduce diagnosis and treatment delays. The implementation of early palliative care has also been reported to improve a patient's quality of life, and even survival. Pulmonologists are responsible for and involved with lung cancer patients from their initial diagnosis and staging through treatment and re-staging. They are also involved in the management of comorbidities and, importantly, complications, either from the tumor itself or the treatment, as well as palliative and end-of-life care. Due to their knowledge of lung physiology, they are the appropriate physicians to estimate respiratory reserve, which is crucial for management decisions, and are thus best qualified to deal with lung-related morbidity and respiratory failure.
Our team of doctors at Ramaiah Memorial Hospital is equipped to treat patients diagnosed with lung cancer and other related issues and provide the best comfort and care to the patients.
Dr. Pragati Rao D.
Department of Pulmonology