Exercise Physiology: Assessment for Elite Para Athlete – Mr. Sharath Kumar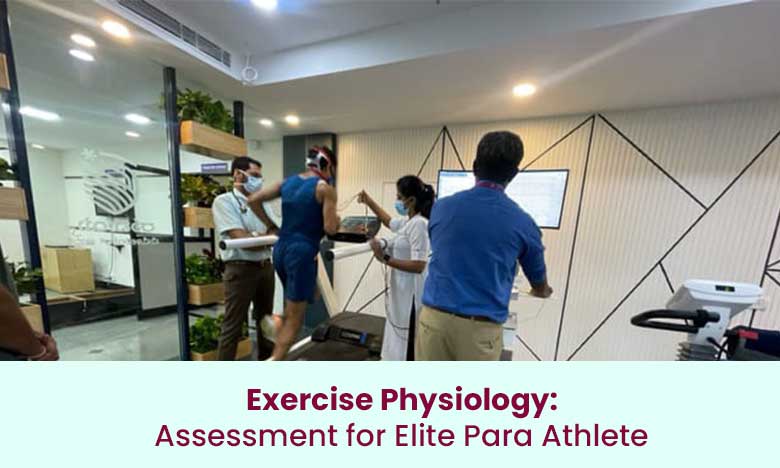 By MSRMH Admin / July 15, 2023
It was a pleasure to have tested Mr. Sharath Kumar, 1500 meter (T-12; blind category) elite Para athlete at the state-of-the-art Human Performance Lab, Ramaiah Memorial Hospital, Bangalore. Sharath is currently the no. 1 ranked runner in his respective category in India and is in contention to book a place in the Para Asian games set to take place in October 2023, Hangzhou, China.
The VO2 max assessment is an extremely high intensity test for endurance of an individual. It is the maximum (max) rate (V) of oxygen (O₂) one's body is able to utilise during exercise. The greater ones VO₂ max, the more oxygen the body can consume, and more effectively the body can use that oxygen to generate the maximum amount of Adenosine Tri Phosphate (ATP).
Intense Tests
This is the first time a test of this intensity was conducted on a para-athlete in India. The cardiac pre-assessment included a barrage of tests including resting ECG, Spirometry, 2D Echo & a thorough clinical examination by the sports physician. A 12- lead ECG was attached during the course of the entire duration. The athlete was assessed over two consecutive days. On the first day, Sharath was made to undergo a couple of trial runs to get used to the equipment in the lead up to the final test.
Sharath clocked great speeds along with some inclination on the treadmill by mere auditory stimuli & spatial orientation. The results were very encouraging and the athlete superseded all expectations. In view of the success of this assessment, more athletes can undergo the assessment which will help set a realistic benchmark for an Indian athletic population.
Athlete Health Tests
The team is hopeful of conducting more such assessments for sub- elite & elite athletes representing the state & country respectively on the world stage. The team comprised of Dr. Sundar, Consultant Physiotherapist, Dr. Rachita Gururaj, research assistant and Dr. (Maj) Ameya Kagali, Sports Medicine Consultant, RMH & Medical Advisor, Paralympic Committee of India.
Dr. Ameya Kagali
Sports Medicine Consultant