PREVENTING ANTIMICROBIAL RESISTANCE TOGETHER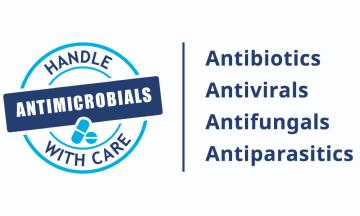 December 6, 2022 / Blog, Endocrinology
Antimicrobial resistance (AMR) occurs when microorganisms namely bacteria, viruses, fungi and parasites do not respond to antimicrobials which they were earlier susceptible. AMR makes infections difficult to treat. It increases the severity, communicability and mortality associated with the disease. It is estimated that AMR caused 1.27 million deaths in 2019.
Over the last few years, there has been a rising concern over the increasing mortality and morbidity associated with drug resistant infections. Prior use of antibiotics, immunocompromised state, prolonged hospital stay and over the counter sales of antibiotics are some of the risk factors leading to the development of AMR. Poor antimicrobial stewardship, inappropriate dosing regimens have further worsened the situation. The lack of development of new antibiotics and the growing menace of drug resistant have forced us to take antimicrobial resistance more seriously.
Following are a few simple steps we can easily take to prevent anti-microbial resistance:
We should never take antimicrobials unless they have been prescribed to us by our treating doctor. We must always complete the course.
Never share your antimicrobials with family members just because they have similar symptoms.
If you get a sore throat, do not rush to your nearest chemist and allow him to sell you an antibiotic. Sore throats are usually viral infections and will resolve with or without antibiotics in the same duration.
All aspects of our food chain must be taken care of. We need to ensure that we do not consume meat or eggs or milk products from poultry/cattle which have been eating food mixed with growth promoters and antibiotics.
We must also ensure that we drink purified water and
Wash the fruits and vegetable thoroughly before consumption.
Regular hand washing can help prevent many infections.
A healthy lifestyle, balanced diet, sound sleep and a relaxed mind ensures an immune system that functions well.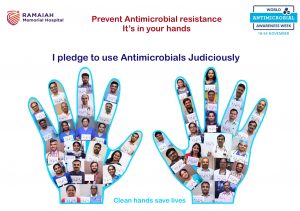 What you may not realize, is that each time you expose your body to antibiotics, there is a much higher chance that the subsequent infections you acquire will be with resistant organisms. Once infected with a drug resistant microorganism, the duration and severity of the illness will increase. Not just that, it may lead to complications and even poor outcomes. The resistant infections are very difficult to treat, with no new antibiotics in the pipeline, we are left with very few options. We have to use combinations of drugs and this would increase the cost and adverse effects.
A global action plan to tackle the growing problem of resistance to antimicrobials was endorsed at the 68th World Health Assembly in May 2015. It aimed to improve awareness and understanding of AMR through effective communication, education and training.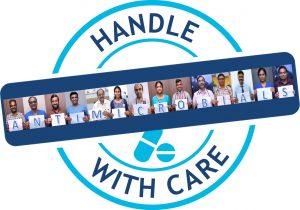 World Antimicrobial Awareness Week (WAAW) is a global campaign by WHO that is celebrated annually to improve awareness and understanding of AMR. It aims to encourage best practices among the public and policymakers, who all play a critical role in reducing the further emergence and spread of AMR. This years' theme of WAAW is "Preventing Antimicrobial Resistance Together."
We, at Ramaiah Memorial Hospital, ensure that we always use antimicrobials judiciously. Awareness programmes during the Antimicrobial Resistance Week in the third week of November, where all doctors took a pledge to use antimicrobials judiciously only strengthens our resolve to use medications judiciously and save lives.
Below are the links to interviews of some of our doctors who have spoken about managing some common infections and the role of antimicrobials in them
https://www.instagram.com/p/ClLziFAJVUi/?hl=en Dr. Pramila Kalra HOD Endocrinology Managing infections in diabetics
https://www.instagram.com/p/ClL0ia7Jy9o/?hl=en Dr. Bharath A Chhabria Assistant Professor Pulmonary and Critical Care Upper respiratory infections
https://www.instagram.com/p/ClLziFAJVUi/?hl=en Dr. Manasa T Assistant Professor Urology talked about Urinary tract infections and the role of antibiotics in treating them.
https://www.instagram.com/p/ClQL1GcAo2_/?hl=en Dr. Radha M G Consultant critical care talked about the importance of using Antimicrobials Judiciously