RESPONDING TO EMERGENCY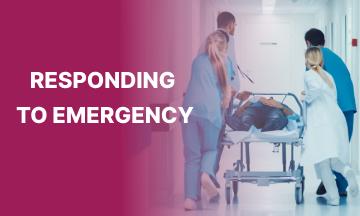 By MSRMH Admin / February 22, 2023
A medical emergency can occur to anyone anywhere at any time.  These are two ways a common man can actively respond to emergencies and help save victims' lives. Ramaiah Emergency Acute Care Training will help you learn lifesaving skills today. Join us in saving lives.
ACTIVE BLEEDING CONTROL (ABC)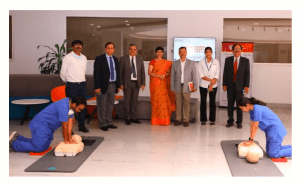 India accounts for the highest number of global deaths in road accidents. On average, 1,50,000 people become victims of road accidents according to the statistics given by Road Transport and Highway ministry.  The percentage of fatalities between the ages of 15 and 45 years stood at 69.80% for the year 2020.
An accident victim with life-threatening bleeding can die before reaching a medical centre. As a witness and a bystander to the incident, each one of us should be trained to actually control the external bleeding, a lifesaving skill till medical aid arrives/ victim is shifted to a medical faculty.  There are three types of bleeding. Arterial bleeding causes the spurting of bright red blood with each heartbeat of the victim. It is usually the cause of most severe blood loss. Venous bleeding occurs due to damage to veins and can cause rapid blood loss. Capillary bleeding usually causes minor blood loss due to the trickling of blood from capillaries.
The Emergency Department of the Ramaiah Medical College in collaboration with the University of Pennsylvania Institute, Paediatric Simulation Training and Research Society, (pediSTARS), GVK Emergency Management Research Institute along with Dr. Vinay Nadkarni, Medical Director of the Institute of Simulation and Advanced Education and innovation at Children's Hospital of Philadelphia have launched the "Active Bleeding Control" (ABC) training programme in Bangalore, Karnataka.
ABC programme is designed to empower bystanders to be equipped to help a victim with a bleeding wound till professional help arrives or is available.  In this hands-on interactive training, one learns to identify life-threatening bleeding, how to appropriately apply a compression dressing, wound packing for continued bleeding wounds in spite of compression and as a last resort tourniquet application to stop the uncontrolled bleeding. By learning these three quick steps of compression-packing- tourniquet application, one can effectively control external bleeding in someone with life-threatening bleeding. Unlike external bleeding, internal bleeding can be equally serious. One should be aware of the signs of shock and ensure the victims reach a medical centre well within the golden hour.
Active Bleeding control conducted by the Emergency Department of Ramaiah Memorial Hospital is a training program similar to the "Stop The Bleed" campaign in the USA. This training was started to make the citizens better prepared to save the lives of victim who has severe bleeding wounds. By taking the course one can become empowered to make a difference when a bleeding emergency occurs and one can save a life by ABC.
The course is open to all, even non-medical persons, who would be interested in saving a life on the road.  Become a member of Active Bleeding Control- Bengaluru. Contact us at this number- 08040503333 to do the course and be the help till medical care is available.
Department of Accident and Emergency