Shining a Light on Childhood Cancer in India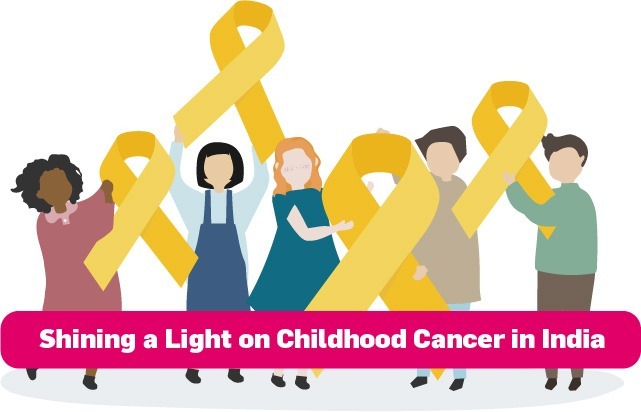 September 25, 2023 / Blog, Medical Oncology
Childhood cancer is a term used to describe various types of cancer that affect children and adolescents 18 years or younger. These cancers can manifest in different ways, such as leukaemia/ blood cancers, brain tumors, bone cancers, and many more. What makes childhood cancer particularly heartbreaking is that it strikes the most vulnerable members of our society – our children. Some childhood cancers, such as certain types of leukaemia, have high cure rates, while others may have lower cure rates depending on the circumstances.
India has one of the highest incidences of childhood cancer in the world with an estimated 40,000 – 50,000 new cases diagnosed each year. This means that, on average, more than 100 children are diagnosed with cancer every day in our country. The average 5-year survival rate for childhood cancer in India is currently at around 70% and has been improving over the years due to advancements in medical treatments, better healthcare infrastructure, and increased awareness. But in comparison to countries like the United States of America, where the survival rate is 86%, we still have a huge scope for improvement. Research plays a pivotal role in advancing the understanding of childhood cancer and improving treatment outcomes. Many Indian institutions are actively involved in research to find better therapies and increase survival rates among paediatric cancer patients in India.
Childhood cancer presents unique challenges. Diagnosing cancer in children can be complicated, as symptoms are often mistaken for common childhood illnesses. Additionally, accessing quality cancer care and treatment can be financially and emotionally overwhelming for many families. The emotional toll it takes on both the child and their loved ones is immeasurable.
Childhood Cancer Awareness Month is a reminder that awareness and action can make a difference. Increased awareness can lead to early detection and prompt treatment, which can significantly improve a child's chances of survival. It's essential for parents, caregivers, and healthcare providers to be vigilant about recognizing potential signs and symptoms. Numerous organizations and foundations in India are dedicated to supporting children with cancer and their families. They provide financial assistance, emotional support, and access to specialized medical care. These organizations also advocate for policy changes to ensure better healthcare infrastructure for childhood cancer treatment.
September is a month dedicated to raising awareness about an issue that touches the lives of countless families across India – childhood cancer. Childhood Cancer Awareness Month provides an opportunity to shed light on the challenges faced by young cancer warriors and their families, as well as the efforts being made to combat this devastating disease.
Cancer care: A social responsibility
In the #ChildhoodCancerAwareness Month 2023, let us remember that childhood cancer is not only a medical issue but also a social responsibility. We can all contribute to this cause by supporting a local childhood cancer organization, spreading awareness on social media, or by making a donation; every effort counts in the fight against childhood cancer. Together, we can work towards a future where no child has to battle cancer, and every child has the opportunity to grow up healthy and happy.
Let us join hands, raise awareness, and take action to make a positive impact in the lives of children and families affected by cancer in India.
Dr. Rasmi Palassery
Consultant, Medical Oncology
MBBS, MD Pediatrics, Fellowship In Pediatric Hematology/Oncology, American Board Of Pediatrics Certified