World Cancer Day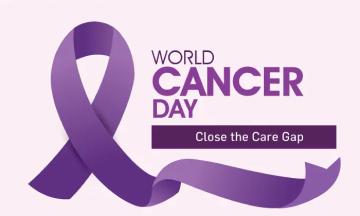 By MSRMH Admin / February 3, 2023
World Cancer Day is held on February 4th every year to raise awareness and encourage action against cancer. The goal is to save millions of preventable deaths each year by increasing education and access to screening, early detection, and treatment services.
World Cancer Day was established by the Union for International Cancer Control (UICC) in 2000 to coordinate and amplify the efforts of the global cancer community in the fight against cancer. The day serves as a platform for people and organizations to unite in the global effort to reduce the impact of cancer and increase understanding about the disease.
The UICC is a global non-profit organization established in 1933. It is dedicated to taking the lead in the global fight against cancer by promoting the prevention and control of cancer, as well as improving the quality of life for people living with cancer. UICC works with its member organizations and partners to reduce the global cancer burden, promote greater equity, and integrate cancer control into the world health and development agenda. The organization's activities include advocacy, education, and capacity building to increase awareness and action on cancer control globally.
Close the Care Gap
The theme for World Cancer Day is "Close the Care Gap".  The "Close the Care Gap" campaign is a multi-year initiative launched by UICC between 2022- 2024. The campaign aims to raise awareness about the disparities in cancer care and to work towards reducing the gap in access to quality cancer care for all, regardless of where people live or their financial status. The campaign is being promoted and supported on World Cancer Day and throughout the year, to challenge the unequal access to cancer care and to drive action to address the gap.
The Oncology Center at Ramaiah Memorial Hospital (RMH) is a specialized cancer care unit at located in North Bangalore. Ramaiah Oncology is one of the oldest oncology departments in the country and was set up in the early 90's. The center provides comprehensive and integrated cancer care services including medical, surgical, and radiation oncology, along with palliative care and rehabilitation. RMH Oncology is equipped with state-of-the-art technology and a team of experienced and dedicated oncologists, nurses, and support staff. The center provides the highest quality of cancer care to patients, with a focus on evidence-based practices, patient-centered care, and a multidisciplinary approach to treatment.
Cancer services
RMH Oncology offers a range of services including screening, diagnosis, treatment, and follow-up care for various types of cancer, and works closely with patients and their families to ensure that they receive the best possible care and support throughout their journey.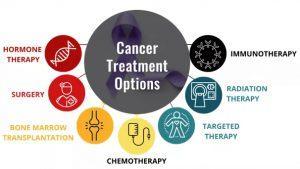 Specialized services at Oncology Center at Ramaiah Memorial Hospital
True Beam Edge radiation machine – It is a state-of-the-art multi-energy Linear accelerator that is equipped with a multilevel collimator of a size of 2.5mm.
This machine can not only do image-guided radiotherapy but also treat very small tumors with stereotactic body radiation therapy.
We have intraoperative radiation therapy Womed machine which will add to the prowess of the armamentarium of cancer treatment.
State-of-the-art Mobile Cancer screening unit which has facilities like mammograms, pap smears and examination room to facilitate early detection and screening efforts of cancer in the community.
State-of-the-art PET CT machine to diagnose different stages of cancer.
Interventional radiology facility to finetune the diagnosis and management of cancers.
A sophisticated Bone Marrow Transplant unit equipped to perform all types of hematopoietic stem cell transplants including haploidentical and unrelated transplants for both children and adults and has delivered excellent outcomes. The bone marrow transplant works closely with the University of Illinois Chicago (UIC) in its quality and accreditation efforts.
Advanced Robotic surgery equipment
Conveniently located day care unit and pharmacy with well-trained, dedicated, and empathetic nursing care. Daycare units have access to a pantry that provides healthy and delicious food to patients and their families. The daycare unit delivers supportive care, chemotherapy, immunotherapy, and targeted therapy drugs for cancer patients.
Well-equipped inpatient unit with access to trained pharmacists round clock care by specialized doctors and consultants, access to trained nutritionists, and physiotherapy and rehabilitation services.
Access to psychology and psych-oncology services to help patients and patient's families overcome stresses associated with cancer diagnosis and treatment.
Access to genetic counseling and testing to deal with hereditary cancers that form nearly 5-10% of all cancer diagnoses.
Access to a specialized pain medicine team, which addresses the management of pain in patients suffering from cancer.
Specialized Palliative care department which addresses palliative care requirements of patients suffering from cancer.
Patient care coordinators and social workers will help with patient navigation and help patients raise funds for treatment.
At RMH Oncology we strive to make the patient's experience as comfortable and painless as possible.
Consultant, Medical Oncology